You've probably heard on the news that people have increasingly been moving out of California to find greener pastures. When they leave California, where are they going?
Well, if you're Elon Musk, Joe Rogan, or one of 687,000 other Californians who in the last decade grew tired of high taxes, an ever-creeping cost of living, and wildfires, you headed straight for Texas.
While there are a number of awesome cities in Texas, moving to Dallas has been a very popular choice for many years now. While Dallas proper doesn't make the list of the top one hundred fasted growing cities in the U.S. as of 2019, its metro area is number one as far as numeric growth.
Are you wondering why it seems like everyone is moving to Dallas? Let's take a look at everything you need to know.
Quick Overview of Dallas
Dallas is one of the fastest-growing city in the US, there are a lot of reasons for that. The appeal of Dallas is nothing new, as it has long been known for its economy, culture, and entertainment.
In 1841, Dallas was founded by John Neely Bryan as a trading post. It quickly became a business hub, offering a center of commerce for the surrounding rural areas. Within 30 years, there were already about 3000 people living in Dallas.
By the early 1900s, Dallas was the leader of the pharmaceutical, jewelry, liquor, and book markets in the Southwest. At the time they were also one of the best car engine machinery manufacturers and saddlery manufacturers. On top of that, they were the leading inland cotton manufacturer in the world.
The population of Dallas was just short of 100,000 people by 1910.
The history of sports, art, and education reaches back into history for the city as well. There were many great blues and jazz musicians in Dallas during the 1920s and 1930s.
Between 2015 and 2016, the Dallas metro area and the Houston metro area were the largest numeric-gaining metro areas in the entire United States.
In Dallas proper, there were estimated to be about 1.3 million residents in the city. As far as the entire metro area goes, there are roughly 7.6 million residents.
Dallas is the third-largest city in Texas and the ninth-largest city in the United States. The two cities in Texas that are larger than Dallas are Houston and San Antonio. However, Dallas is the fourth largest metro area in the entire United States, falling behind only the New York metro area, the Los Angeles metro area, and the Chicago metro area.
There are Plenty of Jobs in Dallas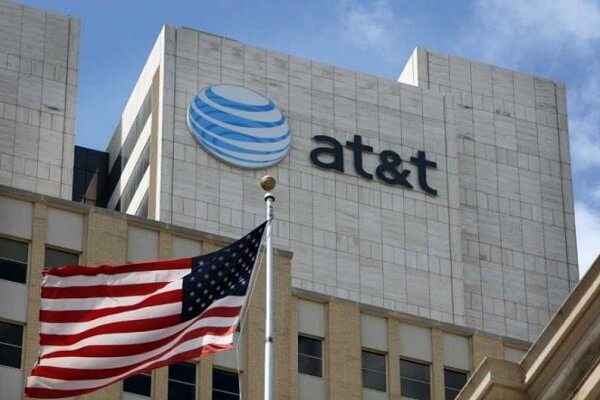 It doesn't matter if you're just getting out of college of if you're looking to make a major pivot in your career. Dallas is a great place to get a job for just about anyone.
Some of the wealthiest people in the U.S. live in Dallas and do business here. With a thriving economy, you'll be able to put your talents to work and be rewarded for it.
There's a low unemployment rate in the Dallas metro area and employment is expected to continue growing across most major industries.
22 of the 500 largest companies in America are located in Dallas. These include American Airlines, AT&T, and Exxon Mobile. The metro area also ranked as the second-best city for recent grads according to Time Magazine.
If the city you're currently living in doesn't have a job for you, consider making a move to Dallas.
Dallas Is Affordable
There are few places you can say this about, but Dallas is not only a place where you can make real money, but it's also an affordable place to live. That's right. You can make more money in Dallas and you can keep more of your money.
While the cost of living in Dallas is 2% higher than the national average, that's nothing compared to other major U.S. cities. The cost of living is 129% higher than the national average in New York City, and even a city like Miami has a cost of living that's 14% higher.
If you want to live in a place where you can make money and it doesn't cost an arm and a leg just to live, consider living in Dallas.
Are you moving to Dallas to be closer to family? If so, check out our handy pros and cons guide.
There's Always Something to Do in Dallas
There is so much to offer in Dallas that it's hard to imagine that anyone could ever get bored here. Whether your thing is sports, the arts, shopping, eating out, or something else entirely, there's a good chance you'll be able to stay entertained in Dallas.
There are dozens of museums in Dallas, not to mention shops, galleries, and restaurants. You can keep yourself busy all day every day soaking in the culture of the area.
If you're a big sports fan, there's plenty here for you. You can watch the pros play basketball or the Dallas Cowboys at At&T Stadium. You can even head over to Globe Life Park to watch a Texas Rangers game.
Do you live for the nighttime? Are you looking for a place that has tons of live music, great drinks, and fun crowds? Then Dallas might be the place for you.
In the Uptown neighborhood, there is one bar for every 192 residents. You'll be able to find live music venues, restaurants, and bars that suit your taste here. It doesn't matter if you're looking for jazz, rock, dance, or the blues, you'll be able to experience it in Dallas.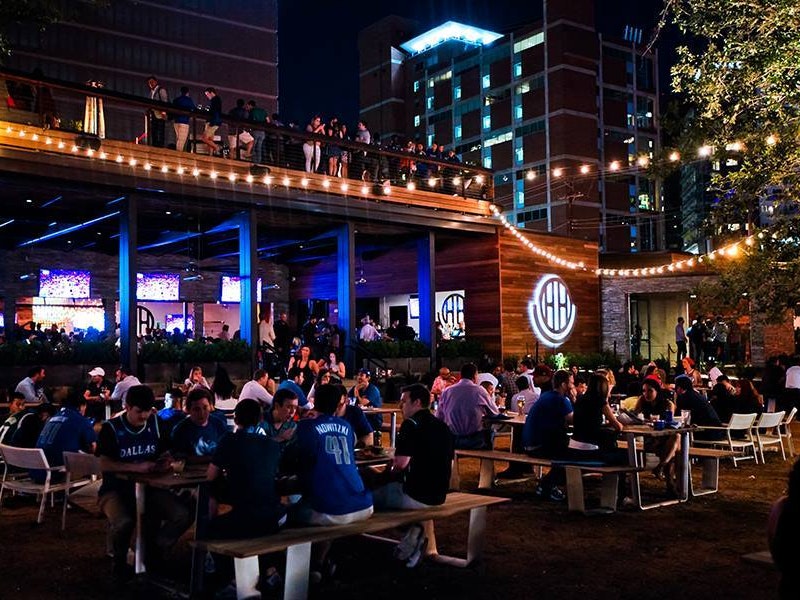 There are also tons of concerts, parades, and festivals in Dallas. If you and your family are looking for something fun to do on the weekend, you'll never be disappointed.
Lastly, there are also a bunch of great ways to get outside in Dallas. You can head to the Dallas Arboretum and Botanical Gardens, go kayaking or fishing at White Rock Lake Park, or head over to the Dallas Zoo.
If you're looking to get away and surround yourself in nature, there are a number of national forests nearby. Davy Crockett National Forest has plenty of swimming, woodlands, horse trails, camping, an amphitheater, and so much more.
Sam Houston National Forest is an expansive area filled with hiking trails, wildlife, hunting, campgrounds, and tons more.
You can also head to Angelina National Forest, which is adjacent to a massive 114,500-acre lake where you can go hiking and camping.
If you're feeling like getting out of the country for a bit, it's only a nine-hour drive from Dallas to Monterrey, Mexico!
Dallas is near the western border of where the woodlands of the east turn into the dry, deserts of the west. If you're feeling like getting some southwestern flavor, you simply have to drive west a few hours. Cities like Santa Fe and Albuquerque can be reached in less than a ten hour drive.
Say Goodbye to Winter
If you're moving to Dallas from a colder climate, you'll definitely enjoy the mild winters. A humid subtropical climate, with daytime highs in the winter can commonly be above 65°F. There can occasionally be freezing rain, which can cause major disruption if the highways and roads become slippery.
Snow is rare in Dallas, though there are typically two or three days when it hails. On average, there are 2.6 inches of snowfall in Dallas per year.
The summertime in Dallas is very hot and humid. There can be severe heat waves when residents prefer to stay inside in the air conditioning.
Both spring and autumn are incredibly pleasant in the city. You'll be able to see vibrant wildflowers in the spring. While there can be some volatile storms in the spring, the weather between late September and early December sees very few storms and is quite nice.
Are you making the move to your new place in Dallas with kids? If so, check out this article for helpful tips.
Living in Dallas Means You're Close to Other Awesome Texan Cities
Not only is Dallas a wonderful area, but you can head out of town to check out some of the other amazing cities in this great state.
Austin is known to be an incredibly interesting and hip city and is less than three hours away. Houston is also about three hours away to the southeast of the city. Roughly 4 hours away in San Antonio, where you can take a stroll along the river and experience a completely different culture and vibe.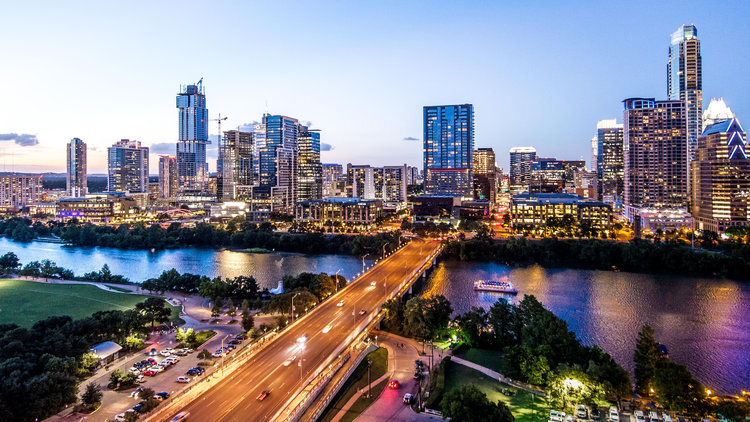 There are also a number of smaller cities that are worth checking out. Waco, Wichita Falls, Abiline, and College Station are all fun day trips. You can even head to the beach with a trip to Galveston, too.
Did you know that Texas is the second most biodiverse state in the nation? In the Lonestar State, you can find deserts, canyons, wetlands, beaches and more. Home to a wide variety of animals and plants, even nature lovers will love living in this great state.
There's No State Income Tax
Texas is one of the nine states in the United States that doesn't have any state income tax. That means when you make your money in Texas, you get to keep it! Who doesn't want a lower tax bill every April?
Forbidden in the state's constitution, instead of income tax, Texas relies on income from excise taxes and sales taxes to pay for services and infrastructure.
There Are Tons of Educational Opportunities
Whether you're thinking about getting more education yourself or you're thinking about your children's educational prospects, there's no shortage of educational opportunities in Dallas.
In the Dallas area, you'll find tons of public, private, and community educational institutions. You can even take non-credit courses that are open to the community if you're thinking about taking a class just for fun.
Even if you don't want to head back to school yourself, there are still lots of benefits of living in a place where there are a lot of educational opportunities. High concentrations of college students tend to bring affordable entertainment options, lots of cultural events, and public non-classroom events and opportunities.
Growth of Dallas Population: What's the Deal?
Dallas has been growing at an impressive rate for the last decade, and all signs point to the next decade being similarly eye-popping. The Dallas Fort Worth area is expected to gain nearly 1.4 million more residents between 2020 and 2029, which is slightly higher than the growth in the previous decade.
This means that this area would be receiving the highest number of new residents out of all U.S. metro areas for the second decade in a row. Basically, for the last ten years and the next ten years, Dallas is gaining a population the size of Oklahoma City.
If growth continues in the way it is projected, and Chicago continues to have a pretty flat growth rate, DFW could surpass the size of the Chicago metro area in not too long.
Corporations relocating to DFW has been a common trend recently and this trend doesn't show any signs of slowing down. Drawn by the available tech talent and favorable business climate, many companies can't pass up moving to the area.
Moving to Dallas? You're Going to Want the Best Moving Company For the Job
As you can see, there are countless reasons why people keep moving to Dallas. A mecca of business opportunities, educational institutions, and cultural events, many Americans are running the numbers and deciding that Dallas is the best place for them.
Texas has always been a place that has represented the entrepreneurial spirit of America since the very beginning. As we begin a new decade, it's clear that Texas will remain an economic powerhouse in the U.S. for some time to come.
Are you considering Dallas a place to live? Is moving to Dallas on your to-do list for the year? If so, contact us to get a free estimate for your move!