Response to COVID-19 - We are open for business and ready to serve you!
Learn More
Richardson Movers | Moving Services in Richardson, TX & the Dallas Metro
Why Choose Us?
Free Boxes with a Guaranteed Quote
Packing and Unpacking Services
24 Hour Service, 7 Days a Week
Apartments, Homes, and Offices
The Best at Local or Long Distance
Courteous, Experienced, Professional Personnel
A+ BBB Rating - Customer Service is our #1 Priority
Proudly Moving Dallas Fort Worth
RATED #1 MOVER IN CUSTOMER SERVICE
Local & Long Distance Moving Company in Richardson
Whether it is a family changing its residence or business moving to a new office, moving is a major undertaking. A residential move requires carrying large items like couches, beds, and dressers. A business relocation includes the transportation of desks, file cabinets, copiers, and communications equipment. In both cases, the large and heavy items have to be carefully maneuvered through doorways and stairwells.
Some people prefer to tackle residential moves on their own or with the help of friends. This can be very difficult and unpleasant… especially in the Texas heat! It is most efficient to hire the best, professional movers such as Around The Block Moving Company. Consistently known as one of the best local Dallas moving companies; they are experts at transporting large quantities of items without damage.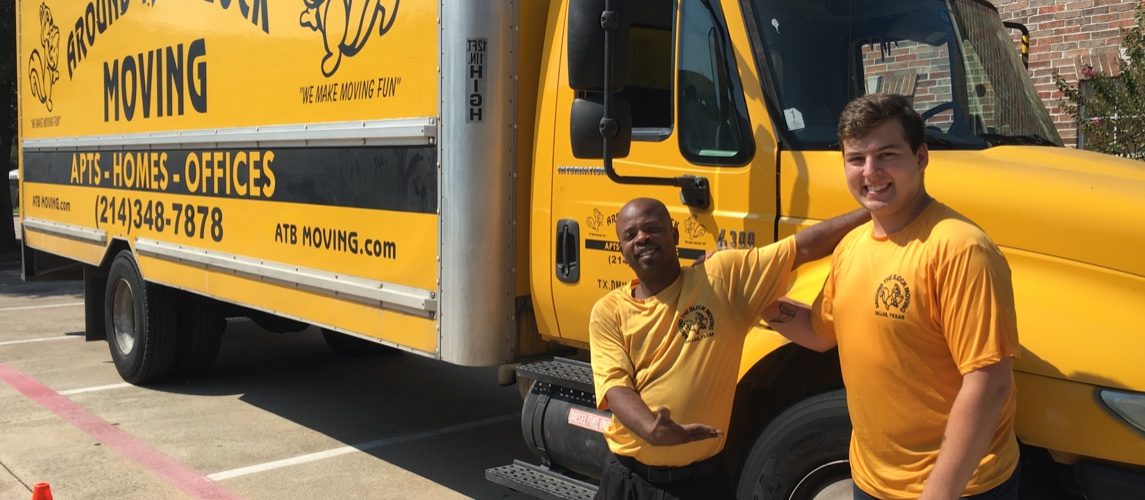 DALLAS LOCAL 
&

 LONG DISTANCE MOVERS
When hiring a moving service, there are a few easy steps that can be taken to make the process as efficient as possible. One detail that some people overlook when moving is to write the appropriate destination room for all boxes. Doing this will let the Richardson movers know exactly where to take each box, so that the items easily be unpacked and put away. Without this information, the moving company will have to pile all boxes together and you will have to sort through them later.
Another reason to prepare in advance is to lower the overall service cost of the move. Everything that is properly packed and labeled will be handled more efficiently. This can save you money by reducing the amount of time it takes to move! Moving also requires a very large number of boxes and other packing supplies. People in the process of moving always seem to be amazed by how much stuff they have accumulated over the years.
Around The Block Moving is top-rated and can help with any move in the DFW area; large or small – from apartments and condos to offices. We offer completely free quotes as well as moving supplies such as boxes and packing tape. Ask about our senior and internet discounts when you call!
Our company even offers a free checklist of items that need to be addressed before, during and after a move. This moving checklist will help you make sure that you don't forget anything along the way. It is good to prepare for your move in advance. This will allow you to dispose of unnecessary items and reduce the overall volume of belongings that will need to be moved.  We also offer heavy furniture help including piano moving.
SERVING ALL OF 
NORTH TEXAS AND DFW
Including, but not limited to
Addison
Allen
Carrollton
Frisco
Dallas
Garland
McKinney
Uptown Dallas
Richardson
Plano
Irving
Highland Park
Prosper
Lakewood
Little Elm
Park Cities
CLIENTS REVIEWS
Great customer service, arrived on time. I moved from a 3 bedroom house in Richardson to a 3 bedroom house in Plano. They sent 4 guys out and got us moved in less time than estimated. They were careful and didn't damage anything. All and all it was a great experience and I will absolutely be using them again.
One of the best experiences I've ever had moving!! Professional, fast and friendly. They actually made moving fun with all the laughter. Highly recommend and if ever I move again. I would use them again!! Moving to the 3rd floor with no elevator is no joke.