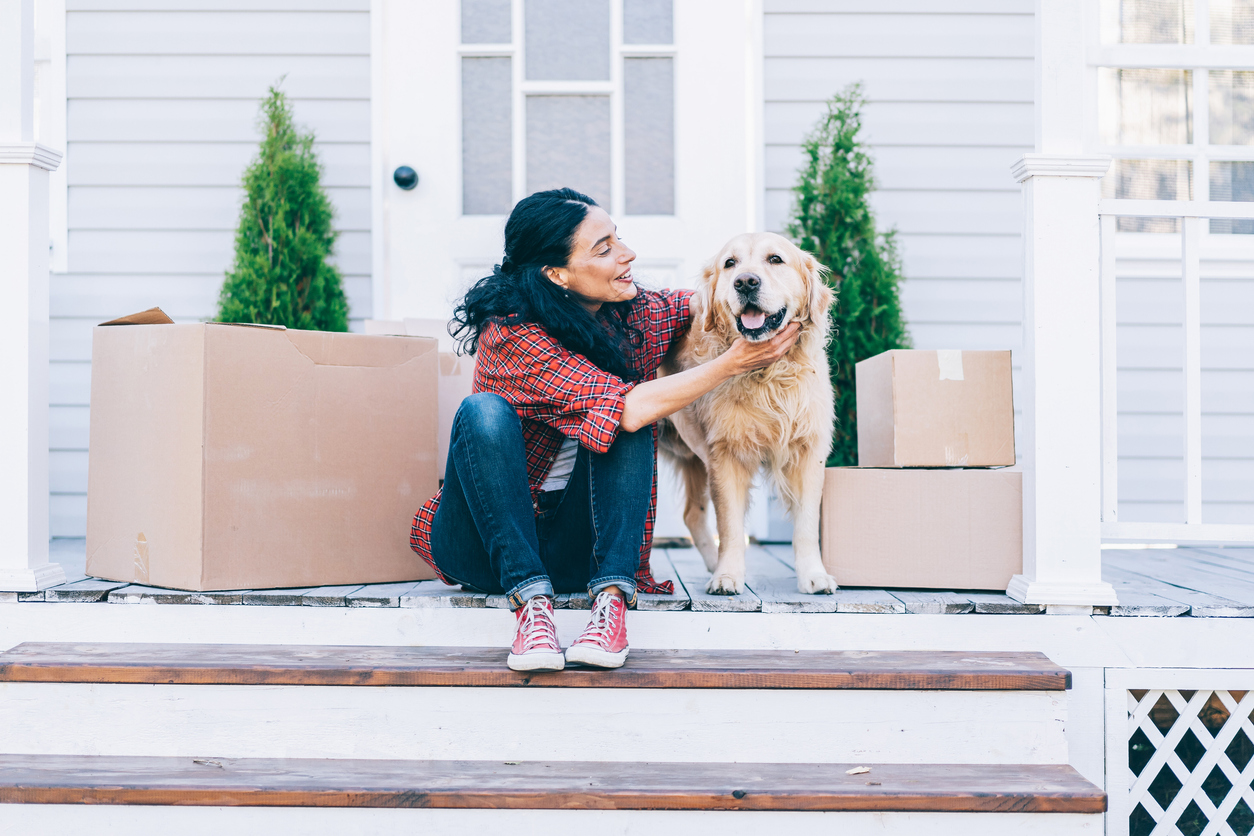 Is your move fast-approaching? Are you starting to panic because you have pets such as dogs or cats that could pose a problem come moving day? It's OK, take a deep breath and relax. Moving is a stressful experience for you, to be sure, but it can also be pretty stressful on Fido. He will feed off your anxiety (or lack thereof) so if you are calm, he will be too.
The first part of the equation is to hire movers with experience in your type of relocation and that can handle pets underfoot.
How you handle moving with your pet will depend on many factors. If you are tackling a short local move, you can just bring your pet with you in the car. But if you're moving across the country or a few states over, the trip could prove to be too overwhelming for your pet. Heed these tips for moving with a pet so you can put your mind at ease.
Car Travel – Some pets love to jump in the family truckster and go for a ride, while others experience anxiety in the car. Start early to prepare them for the ride a few weeks ahead of time by bringing them on short trips around the block or to the corner store. This will help them get used to the sounds, movement and new environment.
Identification – Moving Day is chaotic, and you don't want your pet to get out and run away in the confusion. You don't need the added stress of running around the neighborhood looking for Fluffy. Make sure your pet is equipped with the proper identification, such as collars or chips, and make sure their rabies vaccinations are current.
Travel Kit – Throughout the moving process, you will need to continue to provide your pet with their favorite treats, as well as meals, water and medications. Pack the basics in your car, along with a blanket, their bed, their leash, and toys.
Portable Kennel – If your pet is small, you can keep them confined to a portable carrier so they don't wander around your car unfettered. Plus, if you have to stop to get gas or eat during the trip, they can't just dart out of the vehicle and run off on a busy road.
Your pet can make it to the new destination safe and sound when you heed the above tips. This will also give you peace of mind!
Moving With a Dog
While you may be concerned with moving your cat, bird or lizard, they are relatively easy to contain. Dogs? Not so much. Here are some targeted tips to moving with your dog.
1.     Research Your New Community
Your city could have breed-specific legislation when it comes to different dogs, so be sure to ask about those beforehand. You may have to spay or neuter them, perhaps, or maybe they're not even allowed at your new condo. Check this beforehand to avoid unpleasant surprises.
2.     Obtain Vet Records
Before you leave, get your dog's complete records from the vet. If your dog gets anxious in the car or tends to get motion sick, get them a sleep med prescription. If you haven't already done so, ask your existing vet if they know any vets they trust in the new city that you could use.
3.     Pack the Essentials
Your dog will want to have all the creature comforts of home at the ready, especially in the first couple of days. Pack an essentials bag filled with their favorite food, grooming tools, a leash, toys, cleaning supplies and waste bags.
4.     Update the Tag
Make sure the information is up to date on your dog's tag, including your new phone number and address. If you've been thinking of getting Champ microchipped, now is a great time to do it. If they already have one, update its information.
5.     Secure Your Dog
While the move is going on, keep your dog in a separate room and check on them often. The basement or a quiet guest room would be ideal. Stock them with lots of food and water, and keep the room at an even temperature. If you can, it's even better to board them at a kennel or ask a friend to take them for the day.
Contact Around the Block Moving Company
If you have a move coming up that involves pets of any kind, let us know so we can be prepared. Contact us for a free quote on your residential move at 214-433-6762 in Dallas or Richardson.