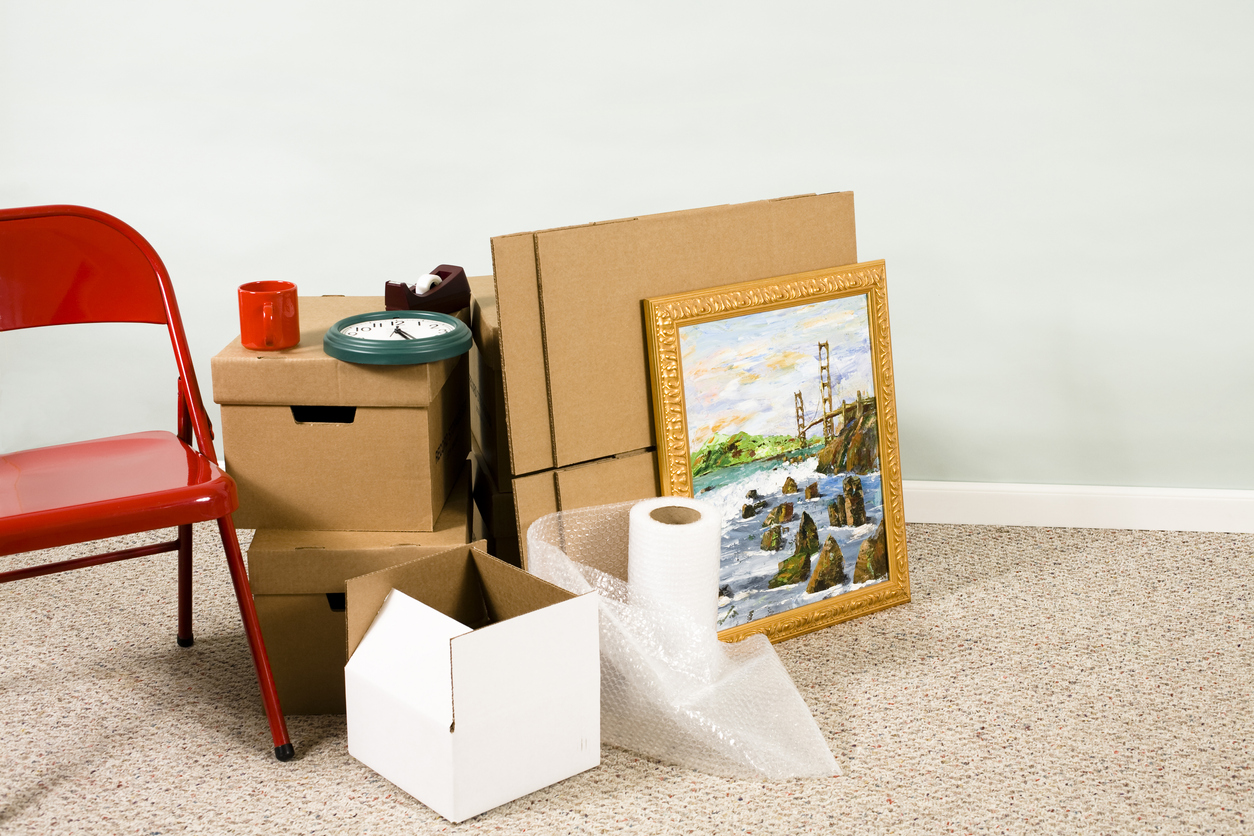 When moving all your stuff to a new house, it's important to pack your fragile and expensive items the right way to avoid costly damage. You shouldn't put breakables in boxes with items such as kitchen supplies or toys because they can chip and scratch glassware and ceramics. Rather, it's wise to pack those breakables in picture boxes so nothing shifts around and breaks during transport.
A Bit About Picture Moving Boxes
Picture moving boxes are ideal for anything you want to protect, such as artwork, antiques, picture frames, paintings, mirrors and more. Why? They're durable, lightweight and simple to use. Most picture boxes hold up to 65 pounds, but they come in all different sizes. They're flat, compact and stackable in the right situations, with extra padding inside to ensure your belongings stay safe even when jostled a bit in the truck.
You can choose the type and size you need for your various breakables. These boxes will offer extra safety and security, safeguarding against bumps or even drops. They're easy to hold and maneuver, and can be customizable as well. That's because they're constructed with two pieces of cardboard that slide together to make up the size you need. With no vacant space or gaps, your item remains snug and protected.
Benefits of Picture Moving Boxes
If you have a few antique frames, artworks, collectibles or mirrors that need to be packed, picture boxes are an invaluable resource. If you put pictures or frames into a regular box, they may fit awkwardly, with lots of gaps where breakage could occur. With packing boxes, the fit is snug and tight. That snug feature protects the integrity of the paint and finish on the items in question.
They are comprised of four pieces that join together in one case made out of thicker cardboard than you would normally see in a standard box. You may think you're saving money by just wrapping your valuables in blankets and putting them in regular boxes. However, if something expensive or irreplaceable breaks, you will be facing a much more expensive and heartbreaking proposition.
When you hire professional movers, they can bring the necessary amount of picture boxes and pack up your valuables for you. They know the risk involved in transporting breakables and do everything they can to ensure safe transit.
How to Use Picture Boxes
If you decide to handle the packing on your own, check out these tips for packing pictures:
Remove all photos and paintings carefully.
Set up a packing station. Designate a corner of the room or small area where you can pack your framed photographs in comfort. Clear the table and cover with a blanket.
Spread out packing paper on the table.
Secure the glass pieces. Put cardboard or furniture pads on top of the glass covering your photos, then secure with packing tape.
Wrap the picture frame with bubble wrap.
Use picture boxes. Slide the boxes into one other until you achieve the desired custom fit.
Label the boxes. Label each box with the contents, destination room, and a "fragile" reminder in bold.
Tell your movers. Make sure you tell your movers ahead of time that you have several picture boxes that need to be handled with care. In fact, it's best if you can place all the picture boxes into one area or room so your movers can haul them all out carefully at once. This way, they'll be grouped together on the truck as well.
In the end, your artwork, frames and breakables need to be protected at all costs to avoid damage and big repair bills later. It's worth the extra time and expense to purchase special picture boxes for your valuables. A big part of the puzzle is hiring professionals who are skilled in handling full-service moves, including packing, to ensure all your fragile items arrive at the new place unscathed.
Contact Around the Block Moving Company
We offer packing services as part of our suite of offerings. That means we bring all the necessary supplies to pack up your belongings safely and efficiently – including pictures, TV, frames, antiques, electronics and collectibles. To learn more or to ask for a free quote, get in touch with us at 214-433-6763.