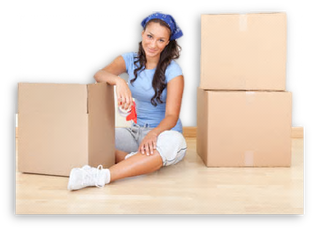 Moving is stressful as it is, but when you're a single parent handling a move with your kids all on your own, that stress can be doubled. On top of the physical stress that comes with organizing, packing and actually moving, you have to mentally and emotionally prepare your children for the upcoming move.
Having a plan and approaching everything with a calm and relaxed manner can help immensely. Whether moving the next town over or into another state, the first step is to hire professional movers to make your job that much easier. Here are some tips to ease into the transition and make the process easier on yourself and the rest of your family during these trying times.
Be Prepared
You know what it's like as a single parent, and that preparation and planning ahead are keys to any successful transition. First, take the time to organize and strategize well before the big day to minimize distractions and stressors. Perhaps you know already because you've been through it before, but moving has its share of unforeseen circumstances that can really hamper even the best of intentions. Mitigate this risk with proper planning in advance.
Your kids should be in on that plan. Get them involve and delegate tasks according to their abilities. Teens can handle a lot – they can pack their own rooms, sell what they no longer need online, coordinate the moving of boxes to a central location, and distracting their younger siblings.
Make sure you explain to them the changes that will be taking place: new school, new neighborhood, new job, etc. Encourage them to talk to you about their concerns, to get ahead of any breakdowns later.
Communicate
Branching off the above topic, it's important that your kids know what's coming. It will be more difficult on everyone because you are the only one in charge of the move. Your attention will be divided, at least till the move is concluded. Hold frequent family meetings leading up to the move so they know exactly what to expect.
You can give them each projects to complete, depending on their ages and abilities. They can pack and clean their rooms, take care of the pets during moving day, and color code boxes. Make it known that you are available to talk whenever they have questions or concerns. Make sure they know the reason for the move, and that you will always be there for them. Being candid with them will help ease the transition.
Hire Movers
As we said earlier, hiring professional movers is the biggest help you can give yourself. Moving with little ones as a single parent is tough, no doubt about it. You have your hands full literally and figuratively, so extra helping hands can be beneficial, whether you need help packing beforehand or just some muscle on the actual day.
Take advantage of those extra services. Let them pack for you — they'll even bring all the supplies. If there's a gap in move-in days, hire them for storage as well. All of these things will lessen the burden on your shoulders.
Travel Light
The more you take with you, the more your move will cost. If you can, leave behind what no longer serves you, and you can save some cash for your new home. Organize your home about a month before the move so you can start going through what you want to keep and what you don't. Take the time to sell or donate items in good condition, trash what's broken or stained, and recycle the rest.
Ask for Help
As single parents, we are used to doing things on our own. It's tough to admit you need help, but do it. Reach out and ask family and friends for a few extra hands on the days leading up to your move. Perhaps they can watch your kids and pets for you, or help you pack up boxes. Moving is a big task that requires all your effort and patience. Do yourself a favor and get the help you need, whether that's from neighbors, friends, siblings, parents or anyone else.
We can take care of the rest!
Contact Around the Block Moving Company
If you're facing a move as a single parent, you need all the help you can get. Contact us today for a free quote and assistance on your upcoming relocation.