Dallas Office Moving from Around the Block Movers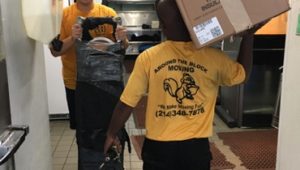 Following these simple instructions will help your Dallas office move go smoother:
Marking
Labels should be affixed to all items being moved and should be marked according to floor, office number and name at the new location. Sometimes Dallas office buildings have multiple floors. In cases where more than one floor is involved, different color labels will be supplied and each floor will be assigned a specific color.
Items consisting of multiple parts should have a label affixed to each of it's parts. Examples: Secretary desk with return or computer terminals with monitor; disk drive, and keyboard.
Desks – Label the desk on the top surface. 
1. Desks will probably be turned on end, pack contents accordingly.
2. Place small items such as paper clips, pens, etc. in an envelope in center drawer or pack in carton provided.
3. All breakables or liquids such as glue, ink, whiteout etc. MUST be removed.
4. Remove and pack all articles from the desktop in cartons.
5. Glass tops on desks should be labeled on lower right hand comer and all paper removed from under the glass.  Lock and remove keys if possible.
Filing Cabinets – Place label on top drawer. 
1. Vertical Files cannot be moved with the contents inside. ALL files should be empty.
2. Two and Three Drawer Lateral Files may be moved full. Four and Five Drawer Laterals MUST have at least the top two drawers packed.
3. If possible, lock and remove all keys from file cabinets.
Bookcases
Bookcases need a label too. Place label on side or top. Barrister type bookcases should have each of its sections labeled. Remove and pack all contents.
Supply Cabinets
Place label on front right hand comer. Remove all contents pack and label cartons same as cabinet.
Office Machines 
Computers, typewriters, fax machines, etc., need not be packed. They are moved on special carts designed for this purpose.
1. Computers- Unplug, remove wiring and label each part – keyboard, monitor, etc.
2. Typewriters and Printers should be unplugged and label affixed to top of machine.
3. Pack smaller machines such as calculators in cartons.
Packing Containers 
Place labels on END of carton, NOT ON TOP. Cartons are stacked for moving and label must be visible on END of carton for proper placement at destination. Please do not OVERPACK cartons as it makes stacking difficult. Flat tops on cartons greatly help to speed up the move.
Miscellaneous 
1. Don't forget to tag chair carpet pads, wastebaskets, etc. If an item is not tagged it will not be moved.
2. We do not remove items attached to wall without prior arrangement. Detach and label these items before the movers arrive
---
Serving all of North Texas and DFW including suburbs like Plano, Frisco TX, Allen, McKinney, Prosper, Richardson TX, Irving, Addison, Garland TX and more!